The Cyrus Poonawalla Group of Companies headquartered in Pune, India are a diversified group with business interests that include Pharmaceuticals & Biotechnology, Finance, Clean Energy, Hospitality & Realty and Aviation.
In 1966 Dr. Cyrus Poonawalla founded Serum Institute of India (SII) with the aim of manufacturing life-saving immuno-biologicals in India.
Serum Institute of India is now ranked as India's No. 1 biotechnology company and the world's largest vaccine manufacturer by number of doses produced and sold globally.
Chief Executive Officer Adar Poonawalla since taking charge of his family's vaccine business in 2011 expanded Serum's global footprint by getting new products licensed and pre-qualified by the World Health Organization for supply to United Nations Agencies including UNICEF and PAHO.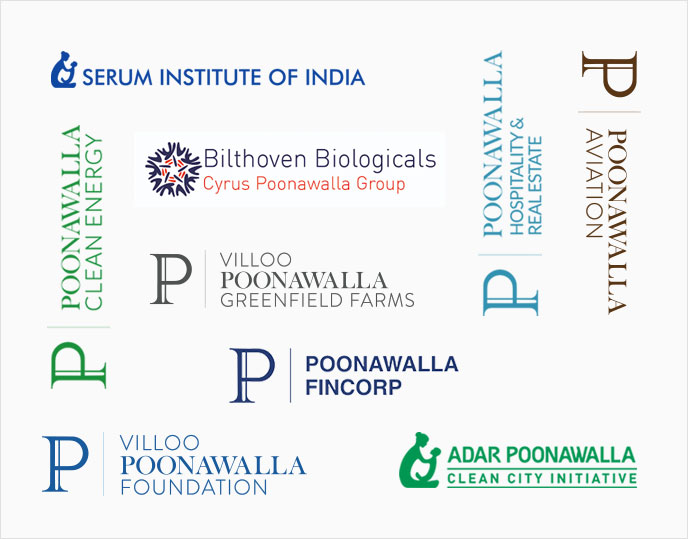 Today it is estimated that about 65% of the children in the world across 170 countries receive at least one vaccine manufactured by SII.
The Poonawalla family has been breeding and racing thoroughbreds in India since 1946 and is the leading Stud Farm in the country. Villoo Poonawalla Greenfield Farms is located at Theur, Pune. Poonawalla Aviation (PAPL) is a Pune based non scheduled operator providing chartered flight services since 2005 with a fleet of 3 aircraft.
Adar Poonawalla has diversified the group into new businesses with Poonawalla Fincorp providing loans to consumers and small businesses, Poonawalla Clean Energy meeting India's rapidly growing need for renewable energy solutions and the recent Poonawalla Business Bay and Ritz Carlton Hotel in the Hospitality & Realty Sector.
In 2011, after the demise of Villoo Poonawalla, the matriarch of the family, Adar Poonawalla founded the Villoo Poonawalla Foundation in her memory with the objective of making lives in urban and rural areas more livable and providing support in healthcare, sanitation and education. Today the foundation has six Schools, Hospital, a city wide sanitation & waste management project called 'Clean City Initiative' as well as provides clean drinking water to more than 25 locations in villages surrounding Pune.