Poonawalla Clean Energy's focus on environmental sustainable solutions and technology to meet the rapidly growing need of renewable energy has recently resulted in the funding of several companies who's core objectives are renewable resources of energy.
Noble Exchange Environment Solutions (NEX) founded in 2011 and recently funded by the Cyrus Poonawalla Group is a Bio waste management company specializing in processing of Organic Food Waste into BioGas and Organic Manure as its by-products. Biogas when cleaned and purified to 96% purity is called Compressed Bio Gas (CBG) and can be used as alternate fuel for natural gas vehicles or replace other fossil fuels such as LPG, Diesel, Furnace Oils, etc. Biogas is considered to be a renewable resource because its production-and-use cycle is continuous and it generates no net carbon dioxide.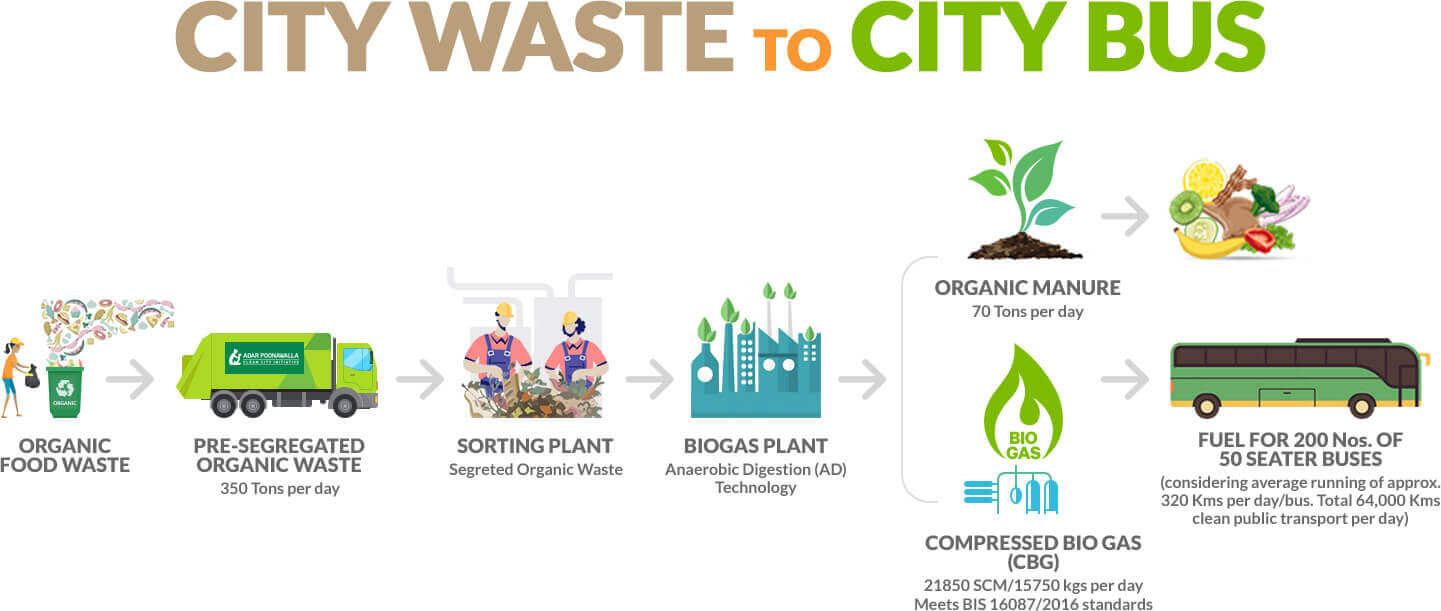 A successful ongoing project "City Waste to City Bus" under the build – own – operate model waste management plant has been setup in collaboration with the Pune Municipal Corporation (PMC) with a capacity to process over 1,25,000 tons of food waste a year from the Pune and convert it into 57,00 tons of CNG / year.
The state-of-the-art processing plant is located 35 Km's from Pune in Talegoan, is a odourless - noiseless operation with zero discharge using anaerobic digestion system producing CBG. This CBG is used as a replacement to CNG in the city's public buses that are run by the PMPML. Apart from providing a cleaner and more cost effective fuel to city buses, this plant has an additional benefit of producing over 25,000 tons of organic manure thereby replacing chemical fertilizers.