03 November, 2020
Government Secures Vaccine Supplies For Half Of The Indian Population From Serum Institute And Novavax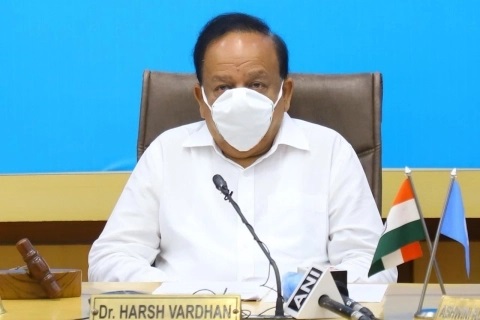 Union Minister for Health Dr Harsh Vardhan (Pic Via Twitter)
In a major development, India and Brazil have secured the rights to buy enough quantities of COVID-19 vaccine to cover half the population of the respective nation as per data compiled by Duke Global Health Innovation Center (DGHIC), reports Economic Times.
As per DGHIC, India has worked out deals with Pune based Serum Institute of India (SII) and Novavax. Also, India is negotiating additional deals with some other companies.
This gains significance as most of the richer nations have already purchased 3.8 billion doses of yet-to-be-produced and approved COVID-19 vaccines, while additional five billion doses are reserved or under negotiation.
It should be noted that the University of Oxford-AstraZeneca developed vaccine which the SII is producing is already leading in advance market commitments with more than two billion doses having been secured by high-income countries.
The analysis showed that not a single low-income country has made a direct agreement to purchase vaccines, suggesting that low-income countries will be limited to the COVAX pact to secure vaccines.
The COVAX facility, an initiative by the World Health Organization, GAVI, The Vaccine Alliance, and the Coalition for Epidemic Preparedness and Innovations, has so far managed to secure doses to vaccinate 250 million people.
Source - Swarajya