28 November, 2020
PM Modi impressed with SII facility, wants vaccine out at earliest: Cyrus Poonawalla
The Prime Minister interacted with top scientists at Serum Institute of India and sought to know the status of the trials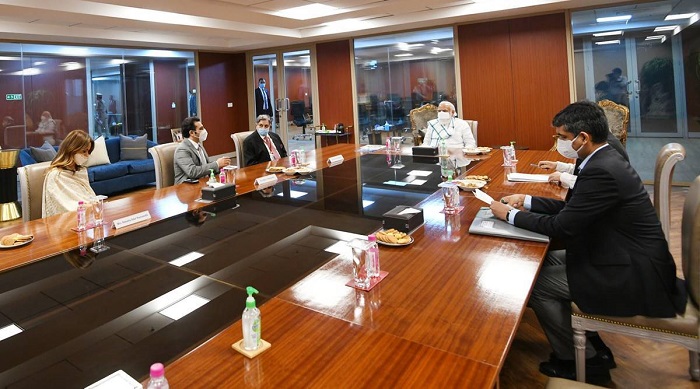 Dr Cyrus Poonawalla welcomed the Prime Minister along with his son and SII CEO Adar and the latter's wife, Natasha.
Prime Minister Narendra Modi, who carried out a three-city visit to "understand the process of vaccine production and distribution" on Saturday, spent an hour at the Serum Institute of India (SII) in Pune, the last of his three stops.
Serum Institute of India has partnered with AstraZeneca and University of Oxford to manufacture the Covishield vaccine.
"It was an excellent visit. The Prime Minister was highly impressed with the manufacturing facility at Serum Institute and asked us to come out with the vaccine at the earliest," 79-year-old Dr Cyrus Poonawalla, chairman of the Poonawalla Group, told The Indian Express
Dr Cyrus Poonawalla, his son Adar, the CEO of Serum Institute of India, and his daughter-in-law Natasha welcomed the Prime Minister to the institute. Modi interacted with the scientists at Serum Institute and visited the vaccine manufacturing facility at Manjari.
"While the Prime Minister lauded the efforts to come out with the vaccine as soon as possible, he spent one hour at the facility, understanding in great detail what we are doing and how we are taking things forward. He told us to employ someone intelligent to educate the people… that they must take the vaccine… otherwise, there may be reluctance in some ignorant population who are not aware of the advantages," said Dr Poonawalla.
The Prime Minister interacted with top scientists at the Serum Institute of India, to better understand how the scale-up is done and what the production capacity is. He also asked questions on the status of the trial. "He asked us if the government can help in the effort," said Dr Poonawalla.
Dr Rajeev Dhere, executive director at the Serum Institute of India, said the Prime Minister was very simple and asked to-the-point questions. "It was a very positive experience," Dr Dhere told The Indian Express.
Earlier, Modi was received at the Pune airport by Southern Army Commander Lieutenant General C P Mohanty, Air Commodore H Assudani, Director General of Maharashtra Police Subodh Jaiswal, Divisional Commissioner Saurabh Rao, City Police Commissioner Amitabh Gupta and District Collector Dr Rajesh Deshmukh.
Source - Indian Express