April 13, 2023 - Press Release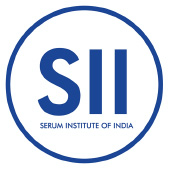 R21/Matrix-M™ malaria vaccine developed by University of Oxford receives regulatory clearance for use in Ghana
The University of Oxford-developed and Serum Institute of India Pvt Ltd (SIIPL)- manufactured and scaled up R21/Matrix-M™ malaria vaccine, leveraging Novavax's adjuvant technology, has been licensed for use in Ghana by the country's Food and Drugs Authority.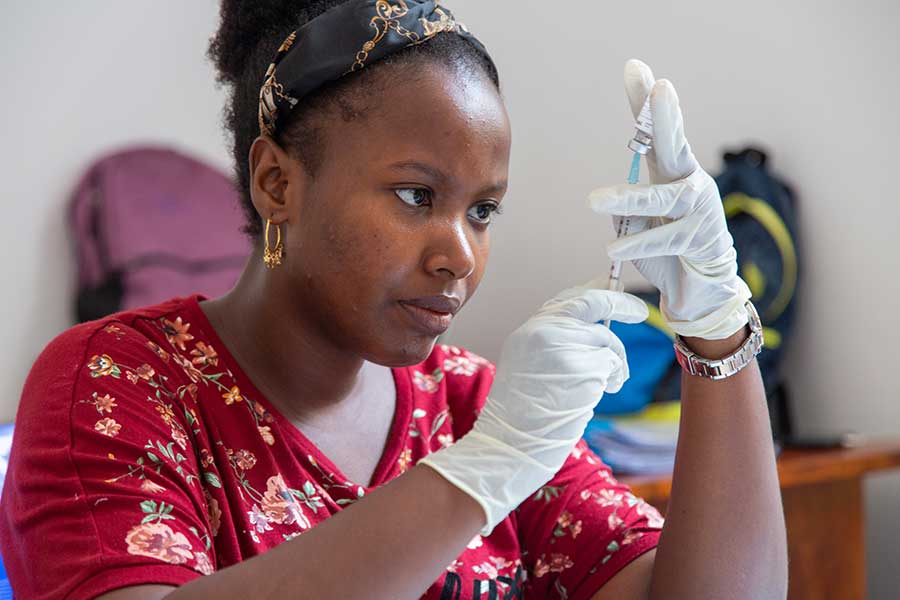 R21 Vaccinations at Tanzania clinical site - Photo Credit Tom Wilkinson, University of Oxford.
The R21/Matrix-M™ malaria vaccine, developed by the University of Oxford, leveraging an adjuvant technology from Novavax, and manufactured and scaled up by the SIIPL, has been granted full national licensure for use in Ghana by the country's Food and Drugs Authority (FDA Ghana).
This marks the first regulatory clearance for the R21/Matrix-M™ malaria vaccine for use in any country. The successful registration was notified to SIIPL by the FDA Ghana. SIIPL is the manufacturing and commercialisation license holder for the vaccine. The vaccine has been approved for use in children aged 5 to 36 months, the age group at highest risk of death from malaria. It is hoped that this first crucial step will enable the vaccine to help Ghanaian and African children to effectively combat malaria. The R21/Matrix-M™ vaccine has demonstrated high levels of efficacy and safety in Phase II trials, including amongst children who received a booster dose of R21/Matrix-M™ at one year following a primary three-dose regime.
Prof. Adrian Hill, Chief investigator, R21/Matrix-M™ programme, and Director of the University of Oxford's Jenner Institute at the Nuffield Department of Medicine, said: "This marks a culmination of 30 years of malaria vaccine research at Oxford with the design and provision of a high efficacy vaccine that can be supplied at adequate scale to the countries who need it most. I congratulate our superb clinical trial partners in Africa who have generated the dataset supporting the safety and efficacy of the vaccine in children. As with the Oxford-AstraZeneca COVID-19 vaccine, our partnership with the Serum Institute of India has been key to successful very large-scale manufacturing and rapid development."
The R21/Matrix-M™ malaria vaccine is a low-dose vaccine that can be manufactured at mass scale and modest cost, enabling as many as hundreds of millions of doses to be supplied to African countries which are suffering a significant malaria burden.
The R21/Matrix-M™ vaccine was initially designed and developed at the University of Oxford and has undergone clinical trials in the UK, Thailand, and several African countries, including an ongoing phase III trial in Burkina Faso, Kenya, Mali and Tanzania that has enrolled 4,800 children. Results from these trials are expected to be reported later this year.
Oxford researchers and their partners last year reported from a Phase IIb trial that a booster dose of R21/Matrix-M™ at one year following a primary three-dose regime maintained high efficacy against malaria, and continued to meet the World Health Organization's Malaria Vaccine Technology Roadmap goal of a vaccine with at least 75% efficacy. This followed 2021 results from the Phase-IIb trial reporting that R21/Matrix-M™ demonstrated high-level efficacy of 77%. Recent data from the large phase III trial also show high levels of efficacy and a reassuring safety profile.
The vaccine contains Novavax's (Nasdaq: NVAX) Matrix-M™, a saponin-based adjuvant that enhances the immune system response, making it more potent and more durable. The Matrix-M™ adjuvant stimulates the entry of antigen-presenting cells at the injection site and enhances antigen presentation in local lymph nodes. This technology has also been used successfully in Novavax's COVID-19 vaccine and is a key component of other development-stage vaccines.
Notably, Serum Institute of India Pvt Ltd (SIIPL) has provided vaccine and sponsored Phase III licensure clinical trials, demonstrating its commitment to combatting malaria. SIIPL has already established potential manufacturing capacities of more than 200 million doses annually.
This breakthrough is a critical step towards reducing over half a million malaria-related deaths annually and improving the health outcomes of millions of people in Africa and beyond.
Adar Poonawalla, CEO of the Serum Institute of India Pvt Ltd., said: "Malaria is a life-threatening disease that disproportionately affects the most vulnerable populations in our society and remains a leading cause of death in childhood. Developing a vaccine to greatly impact this huge disease burden has been extraordinarily difficult. At the Serum Institute of India, we are committed to our vision of Health for All and ensuring equitable access to vaccines for people around the world."
"The licensure of the R21/Matrix-M™ Malaria Vaccine for use in Ghana is a significant milestone in our efforts to combat malaria around the world. We remain steadfast in our commitment to scaling up production of the vaccine to meet the needs of countries with high malaria burden and to support global efforts towards saving lives."
John C. Jacobs, President and Chief Executive Officer, Novavax said: "We're thrilled that Novavax's Matrix-M™ adjuvant has contributed to the success of this promising and much-needed malaria vaccine. It is our intention to unlock the potential of our adjuvant, both in the near term and over time, to continue to improve public health."
Dr Kofi Nsiah-Poku, Managing Director / CEO of DEK Vaccines Limited said: "DEK Vaccines Limited, an upcoming-vaccines manufacturing factory in Accra, Ghana is thankful for the support of the Government of Ghana through the Vaccines Manufacturing Committee and Ghana FDA, who have been first in the world to approve the R21/Matrix-M™ malaria vaccine. DEK team is looking forward for long term collaboration with the Serum Institute of India."
Funding:
The design and development of R21/Matrix-M™ has been supported by funding awards to the University of Oxford and partners from the European Commission, the European and Developing Countries Clinical Trials Partnership, UK Research and Innovation, The Wellcome Trust, the UK National Institute for Health and Care Research, the Bill and Melinda Gates Foundation and the Serum Institute of India Pvt Ltd.
About the University of Oxford
Oxford University has been placed number 1 in the Times Higher Education World University Rankings for the seventh year running, and number 2 in the QS World Rankings 2022. At the heart of this success are the twin-pillars of our ground-breaking research and innovation and our distinctive educational offer.
Oxford is world-famous for research and teaching excellence and home to some of the most talented people from across the globe. Our work helps the lives of millions, solving real-world problems through a huge network of partnerships and collaborations. The breadth and interdisciplinary nature of our research alongside our personalised approach to teaching sparks imaginative and inventive insights and solutions.
Through its research commercialisation arm, Oxford University Innovation, Oxford is the highest university patent filer in the UK and is ranked first in the UK for university spinouts, having created more than 200 new companies since 1988. Over a third of these companies have been created in the past three years. The university is a catalyst for prosperity in Oxfordshire and the United Kingdom, contributing £15.7 billion to the UK economy in 2018/19, and supports more than 28,000 full time jobs.
About Serum Institute of India
Driven by the philanthropic philosophy of affordable vaccines, Serum Institute of India Pvt, Ltd. is the world's largest vaccine manufacturer by number of doses produced and sold globally (more than 2.5 billion doses), supplying the world's least expensive and WHO-accredited vaccines to as many as 170 countries. It was founded in 1966 with the aim of manufacturing lifesaving immunobiological drugs including vaccines worldwide. With a strong commitment towards global health, the institute's objective has been proliferated by bringing down the prices of newer vaccines such as Diphtheria, Tetanus, Pertussis, HIB, BCG, r-Hepatitis B, Measles, Mumps and Rubella vaccines. SII is credited with bringing world-class technology to India, through its state-of-the-art equipped multifunctional production facility in Manjri, Pune along with spearheading the race of vaccine development against the COVID-19 pandemic. Serum Life Sciences Ltd is a subsidiary company of Serum Institute of India, with a global sales office in London to market vaccines manufactured by Serum Institute of India.
About Novavax
Novavax, Inc. (Nasdaq: NVAX) promotes improved health by discovering, developing, and commercializing innovative vaccines to protect against serious infectious diseases. Novavax, a global company based in Gaithersburg, Md., U.S., offers a differentiated vaccine platform that combines a recombinant protein approach, innovative nanoparticle technology and Novavax's patented Matrix-M™ adjuvant to enhance the immune response. Focused on the world's most urgent health challenges, Novavax is currently evaluating vaccines for COVID-19, influenza, and COVID-19 and influenza combined. Please visit novavax.com and LinkedIn for more information.